A calm economic calendar for Canada next week will keep the focus on virus developments. Provincial governments have reintroduced measures to slow the spread of the virus, including mandatory closings of high-contact services like restaurant dining rooms and gyms in Ontario and Quebec. We expect companies in the travel and hospitality industries to continue to bear the brunt of the restrictions. Indeed, our card spending data already showed a sharp drop in travel spending in December. And the unusually high rate of spread of the virus has likely pushed much of the workforce to self-isolate, adding to short-term labor supply issues in other industries. All in all, we expect first quarter GDP to look significantly weaker and have revised our growth projection to 1.5% from 4% for the quarter. With testing capacity overwhelmed in many areas, hospitalization rates will be carefully scrutinized to get an idea of ​​how quickly the restrictions could be relaxed. This latest wave of COVID-19 is several times larger than those that preceded it. But the speed of the spread means that it is also expected to run faster, we expect economic growth to rebound in the second quarter.
Inflation data will remain a key issue in the United States, with CPI growth expected to exceed 7% year-on-year. This would be up from 6.8% in November, which was already the highest since the 1980s. Pandemic distortions continue to bias annual price growth higher than pre-pandemic levels, the prices of used cars and gasoline representing a disproportionate share of the earnings. But even with these factors under control, the pressure on prices increased. Central banks have extensively reviewed Omicron's expected short-term economic impacts and remain focused on both these price pressures and strengthening labor markets. We don't expect the latest wave of the virus to spread to stop the US Fed (or the Bank of Canada) from raising interest rates in the first half of this year.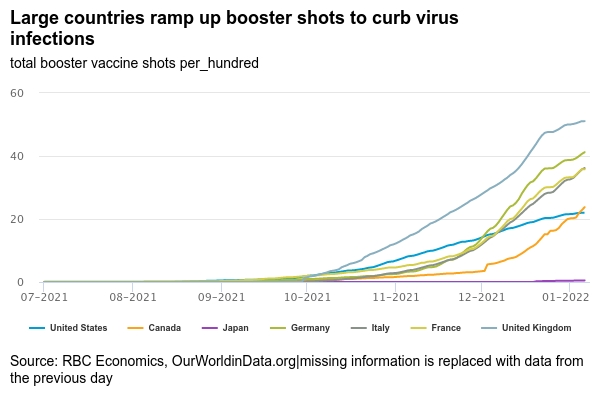 Data monitoring for the coming week:
United States CPI: Year-over-year price growth is expected to reach 7.1%, from 6.8% in November, supported by higher prices for used cars. We also expect evidence of widening price growth to continue into December.
US retail sales are expected to decline in December on lower auto and gasoline sales. Retail sales remain very strong compared to pre-pandemic trends.